Share:
Microsoft Teams has features to record and transcribe your online meetings. It becomes very important when you want to come back to important meeting topics or manage the information. How to do that? Step-by-step guide answer this question easily.
Why should I record and transcribe meetings?
Recording and transcribing meetings have become an increasingly popular practice in today's fast-paced business world. While some people may think that recording and transcribing meetings is a waste of time, it can actually provide a host of benefits that can make meetings more productive and efficient.
Accurate Record-Keeping
One of the most significant advantages of recording and transcribing meetings is that it provides an accurate record of what was discussed and decided upon during the meeting. This can be especially helpful when there are important decisions made or when there are disagreements or misunderstandings. By having a clear record of what was said, it is easier to resolve conflicts and clarify misunderstandings.
Improved Communication
Recording and transcribing meetings can also improve communication among team members. By having a clear record of what was discussed, everyone can stay on the same page and work together more effectively. Additionally, transcribing meetings allows for important information to be disseminated quickly and easily, ensuring that everyone is aware of the latest developments and decisions.
Time-Saving
Another benefit of recording and transcribing meetings is that it can save time. Rather than having team members take notes during the meeting, which can be distracting and time-consuming, they can focus on listening and participating in the discussion. Additionally, if team members are unable to attend the meeting, they can review the transcript at their convenience, saving time and ensuring that they are up-to-date on what was discussed.
Increased Productivity
Recording and transcribing meetings can also increase productivity. By having a clear record of what was discussed, it is easier to identify action items and follow up on them after the meeting. Additionally, transcribing meetings can help streamline decision-making processes, as team members have all the necessary information at their fingertips.
How to record and transcribe meetings in Microsoft Teams? 
It is possible to record any Teams meeting or call, which will capture audio, video, and screen-sharing activity. This recording can be shared within your organization in a secure manner. The recording will be automatically deleted after a predetermined amount of time, as determined by your admin. However, you have the ability to adjust the expiration date for individual recordings.
Start recording or transcription
Step 1: Start or join the meeting.
Step 2: Go to the meeting controls and select More actions (3 dots) and press Start recording.
Stop recording or transcription
Step 1: Go to the meeting controls and select More actions (3 dots).
Step 2: Choose one of the following:
Stop recording: Stops the recording and transcription.
Stop transcription: Stops just the transcription. The recording continues until you select Stop recording.
Where to find MS Teams recordings and transcripts?
After the meeting, transcription and recording can be immediately found in the Microsoft Teams calendar.
Step 1: Select Calendar option on the left side of the MS Teams menu.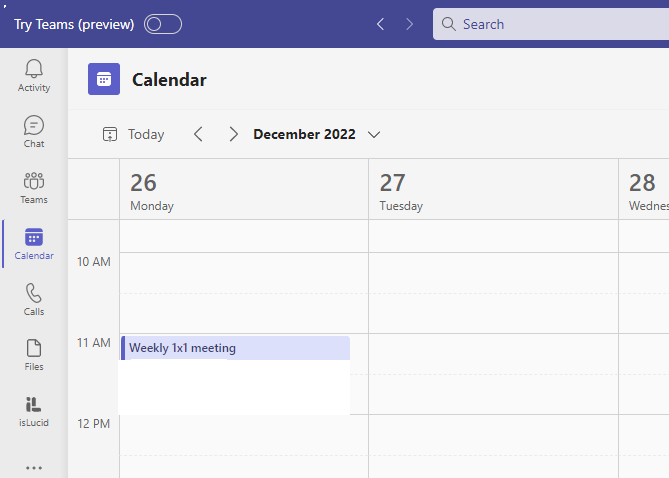 Step 2: Open a meeting and select "Transcripts and Recordings".
Step 3: Select the transcript, press the "Download" button and select file type.

Also Microsoft Teams meeting transcription can be found in a meeting chat section.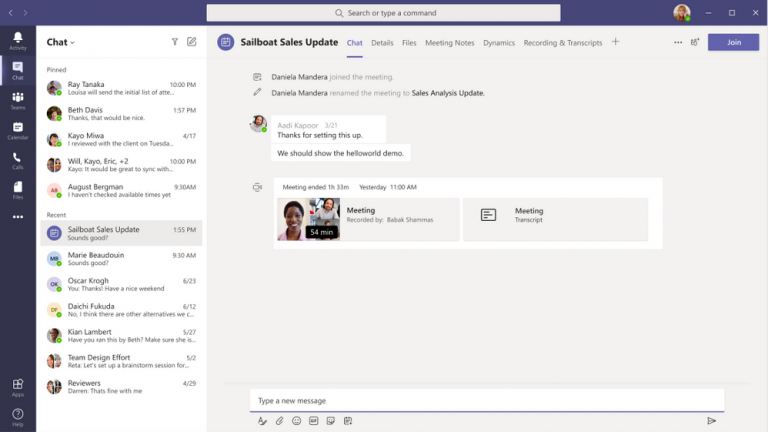 How to manage MS Teams transcription? 
After stopping the transcription and finishing the meeting recording, go to isLucid to the Meeting History section. There you will find a button Import Native Transcripts on the top left. When you press it, your transcription will appear there in a few minutes.

Why use isLucid?
Transcribe a Microsoft Teams meeting and later on upload your file to isLucid for further information management. It is a single place to safely store and manage meeting transcripts. You can create actionable items such as agendas, tasks, and meeting minutes, and share them with your colleagues if needed. These transcripts do not have an expiry date which means that you can access meetings from long time ago.
Using isLucid with Microsoft Teams transcription offers numerous advantages over other transcription services. Firstly, it is quick and easy to set up, meaning you can start using it almost instantly. Furthermore, the accuracy of its transcripts is superior to most other options available. This makes it ideal for a variety of applications: transcribing video calls, audio recordings, or even text chats. Additionally, the integration with Teams provides an extra layer of security and privacy for sensitive conversations that need to stay confidential. The service also offers real-time automatic speech recognition which further enhances its accuracy.
isLucid for a better meeting management
isLucid bridges verbal information with task management software, allowing team members to focus on the discussion and have organized written information. This helps to make a better decision-making process and keep teams aligned. Information from conversations are being organized in seconds and stored in any chosen task management platform, CRM or ATS. All the meetings become searchable, sharable, and actionable. By using integrated OpenAI models, notes and tasks are paraphrased and ready to go.
Communication between team members can become clear because of actionable items such as tasks, bookmarks, or meeting minutes. You can also save important meeting information with isLucid and share it with anyone you like – new employee or the one who did not attend the meeting. This helps to save time on keeping in touch with all decisions made during the meeting. With isLucid, organize and access all of your meetings at any time – they are stored for an unlimited amount of time. You can go back to a meeting that happened a long time ago and organize it the way you like or share it with your colleagues.
If you are interested in isLucid digital meeting assistant, get it for MS Teams.
You can also book a demo and get a walkthrough: Book a Demo.