Share:
Migrating from Zoom to Microsoft Teams can be a big change for organizations, but it can also bring many benefits. Teams provide a comprehensive solution for video conferencing, collaboration, and communication, making it an attractive option for organizations looking for a more integrated solution. Here's what you need to know about migrating from Zoom to Teams.
Zoom vs MS Teams features
Microsoft Teams and Zoom Videoconferencing are potent technologies combining video, content sharing, and real-time conversation. Each has particular advantages. TechTarget made a features comparison between these two software by defining the main features and capabilities.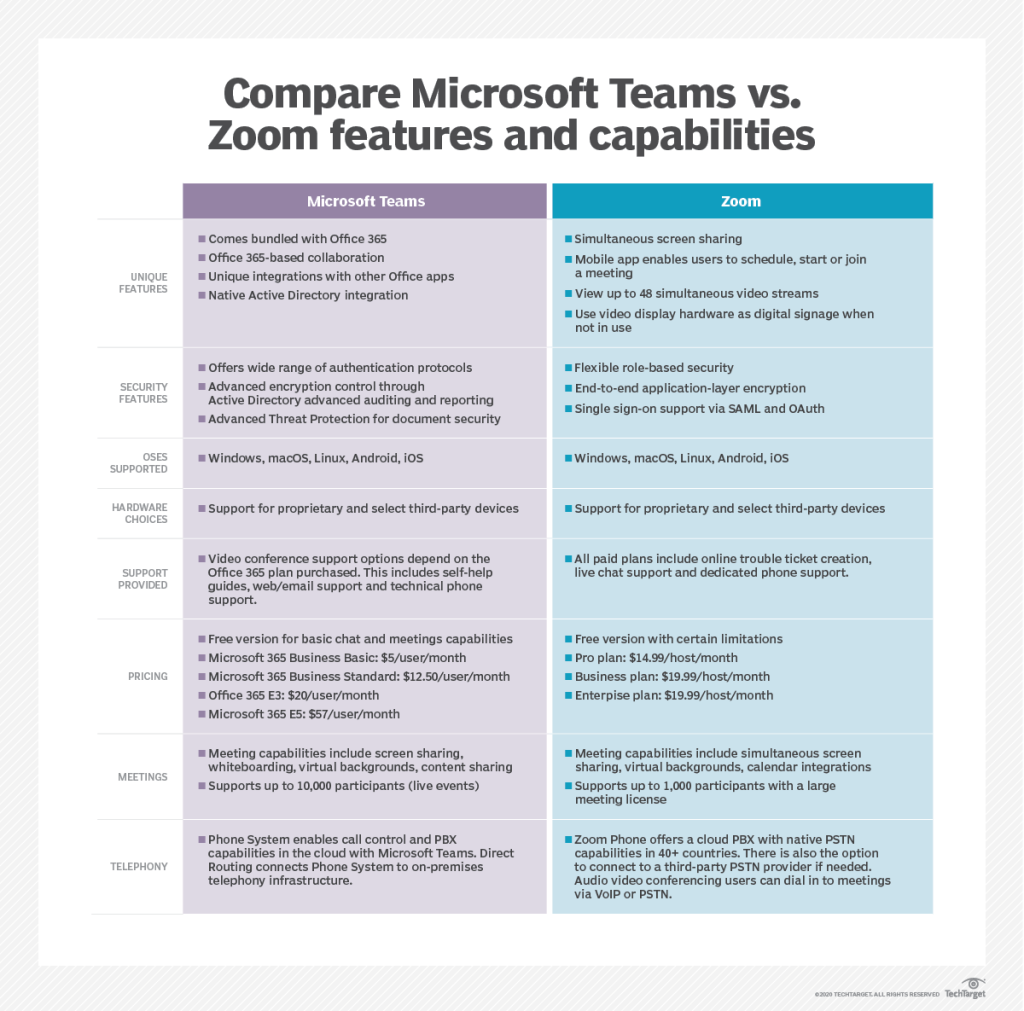 The most different part of this comparison – is pricing. Microsoft Teams charges every user per month if it uses a paid plan, while the Zoom plan charges only a host.  Also, MS Teams can gather a larger amount of participants – up to 10 thousand during live events.
Migration Checklist
To get the best out of Zoom to Teams migration here is a list of things that need to be checked for the best experience possible:
Preparation:
Decide on a timeline for the migration and communicate this with all stakeholders.
Assess your current Zoom usage and identify what features and functionality are most important to you.
Make sure that your Microsoft 365 account is properly set up and configured.
Data migration:
Export your Zoom meeting data and recordings, if needed.
Import your Zoom meeting data into Microsoft Teams.
Test the imported data in Teams to ensure everything was transferred correctly.
User adoption:
Provide training and resources for your users on how to use Microsoft Teams for video conferencing and collaboration.
Encourage adoption by highlighting the benefits of using Teams over Zoom.
Testing:
Test the video conferencing and collaboration features in Teams to make sure they meet your needs.
Evaluate the overall user experience and gather feedback from users.
Deployment:
Update your internal communications and processes to reflect the switch to Teams.
Encourage all users to start using Teams for video conferencing and collaboration.
Post-migration:
Monitor the adoption and usage of Teams to ensure the migration was successful.
Address any issues or concerns that arise during the migration process.
Continuously evaluate the effectiveness of Teams and make improvements as needed.
Note: This is a general checklist and may not be applicable to all organizations. You may need to modify or add steps based on your specific needs and requirements.
Migration Tools
ShareGate. Sharegate is a software tool for managing and migrating content and permissions in Microsoft SharePoint and Microsoft 365 (formerly Office 365) environments. It provides a user-friendly interface for administrators and other IT professionals to perform tasks such as copying sites, migrating content from on-premises to the cloud, and managing permissions for users and groups. Sharegate aims to simplify and automate many of the complex and time-consuming tasks involved in managing SharePoint and Microsoft 365 environments, allowing organizations to save time and resources.
Synergy's E-Migrator. Platform offers a 5-step migration solution that can leverage a migration from Zoom Meetings to MS Teams. It is a solution for managers, administrators, and complete governance of the process. The platform allows analyzing past and future sessions, and Zoom configuration, also users can discover a business plan that would assist the migration. The 5 step migration process includes discovery, analysis, migration strategy, migration, and validation. The discovery step includes past and current usage of Zoom and Microsoft Teams. Analysis gathers information about Zoom configuration and sizing migration resources.  Migration strategy and migration process are done by analyzing Zoom usage and MS Teams capabilities, business adoption, and management plan, which will help to initiate phased-migration activities and end-user validation experience.
Cloudiway. Using Cloudiway software migration product for Teams tenant to a tenant does not require any software installation and can allow quick and secure migrations. More than just a tool to move Teams, it brings along SharePoint content, retrieves Office 365 Groups, and avoids data duplication. Some features of the Cloudiway product for MS Teams migrations include audit, creating, and teams discovery and channels to migrate; managing and migrating all teams, groups, and Microsoft SharePoint content.
isLucid for a better Microsoft Teams experience
isLucid bridges verbal information with task management software, allowing team members to focus on the discussion and have organized written information. This helps to make a better decision-making process and keep teams aligned. Information from conversations are being organized in seconds and stored to any chosen task management platform, CRM or ATS. All the meetings become searchable, sharable, and actionable. By using integrated GPT3 notes and tasks are paraphrased and ready to go.
Communication between team members can become clear because of actionable items such as tasks, bookmarks, or meeting minutes. This helps to save time on keeping in touch with all decisions made during the meeting. With isLucid, organize and access all of your meetings at any time – they are stored for an unlimited amount of time. You can go back to a meeting that happened a long time ago and organize it the they you like or share it with your colleagues.
If you are interested in isLucid digital meeting assistant, get it for MS Teams.
You can also book a demo and get a walkthrough: Book a Demo.