Share:
isLucid offers the ability to its customers to generate automatic notes, capture tasks, meeting minutes, use voice commands. How to use isLucid on Microsoft Teams to take notes from your meeting? Find out in our blog.
What are automatic notes?
Automatic notes are notes that are automatically generated using technology, such as artificial intelligence, machine learning, or voice recognition software. These notes are created without the need for manual input, allowing users to capture and organize information more quickly and efficiently.
For example, automatic note-taking apps can transcribe conversations and meetings in real-time, allowing users to focus on the conversation without worrying about taking detailed notes. The apps can capture the conversation, transcribe it into text, and organize it into a searchable archive for later reference.
Similarly, some email and messaging apps offer automatic note-taking features that suggest responses based on the content of the message. These suggestions can include frequently used phrases, commonly asked questions, or pre-written templates, saving users time and effort when responding to messages. Automatic notes can also be generated by tools like digital assistants or smart home devices, which can capture and store information based on voice commands or other input.
How to take automatic notes on isLucid?
You can create automatic notes on isLucid during or after your online meeting on Microsoft Teams.
During the meeting
Step 1: Start your meeting
Once the meeting has started open the isLucid application (press on add an app in the top right and then press the isLucid icon) .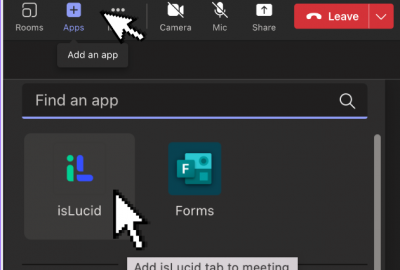 Step 2: Go to transcript
Select task tab and see the transcription running to mark your tasks.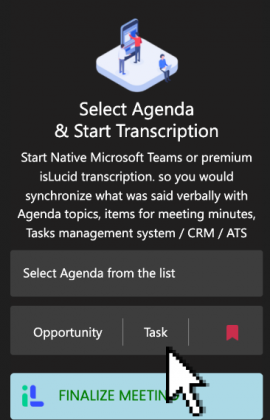 Step 3: Select a task
In the transcription, press on the circle to select needed sentence. You can select multiple. After that, press create button.
Note: During the conversation you will see AI recommendations for potential tasks to save time for you. It will make your task more formal and ready to be stored. If you want to create it as a task click a check mark.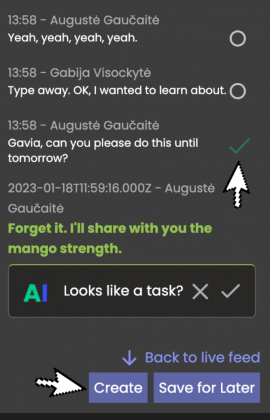 Step 4: Add task to project management software
Press on 'click to change' and select preferred task management software from the list where you want to locate the task. Edit if needed, select the project, group and assignee and click save. Your task will be transferred in seconds.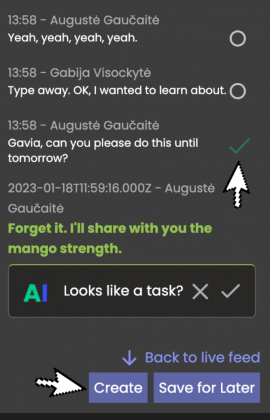 Step 5: Created item
After finishing you should see the following prompt in the chat.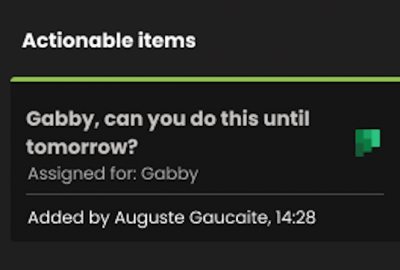 After the meeting, all of the created actionable items will be visible in a meeting history section. If you forget about something, you can find a meeting and manage it after.
After the meeting
Step 1: Navigate to the isLucid tab
On the left side of Microsoft Teams press on the isLucid icon and select "Meeting History". Choose a meeting from the list that tasks you want to manage.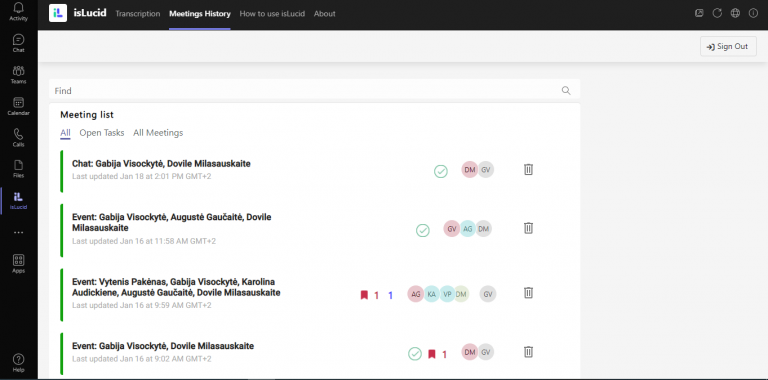 Step 2: Select parts from the transcript
In the meeting transcript scroll and find a part that you want to manage. Press on a conversation part that actionable item you want to create. You can choose multiple parts that will be included in the same task.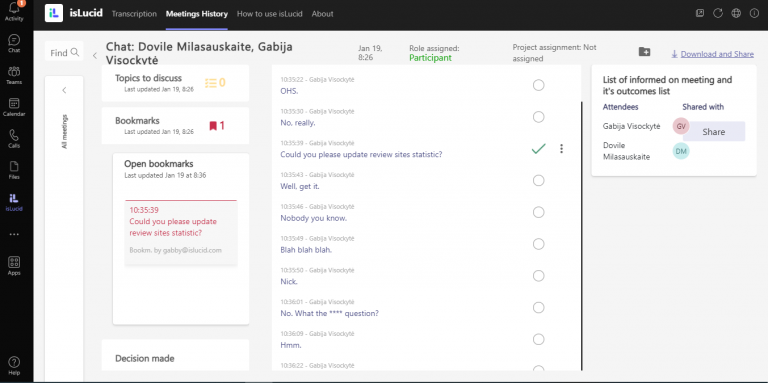 Step 3: Choose there to add a task
Press on a three dots on the right side of marked item. Choose there you want to add your actionable item.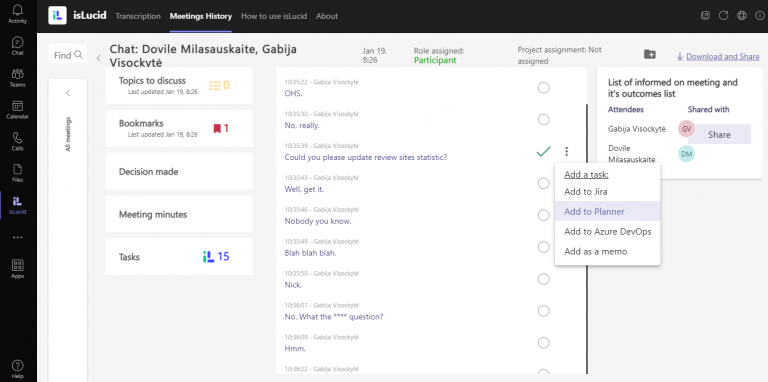 Step 4: Discribe your task
Choose there you want locate your task – what group or assignee it will be dedicated. After everything is completed, press "Create" button. Created actionable item will be visible on the left side of transcript panel.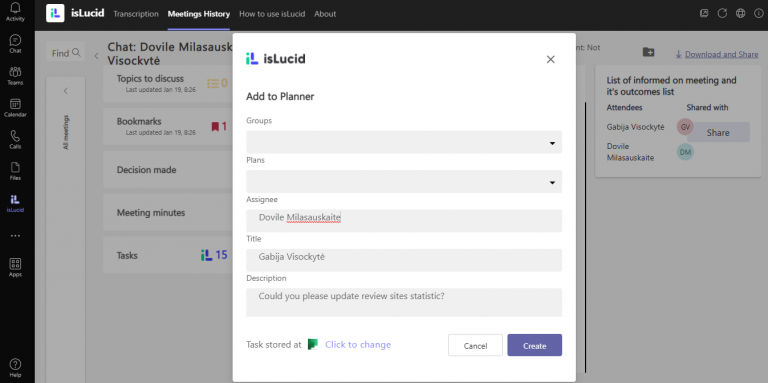 MS Teams native transcription
Native transcription from Microsoft Teams imported to isLucid has all the same features as a real-time recording primary set-up. You can easily record and transcribe, create and edit tasks, create meeting minutes file or use it for project management.
You can import MS Teams native transcription to isLucid and get all of the functionalities. It takes a few steps:
Step 1: Start a Microsoft Teams meeting, and unmute yourself. After pressing on the three dots find  Start Transcription.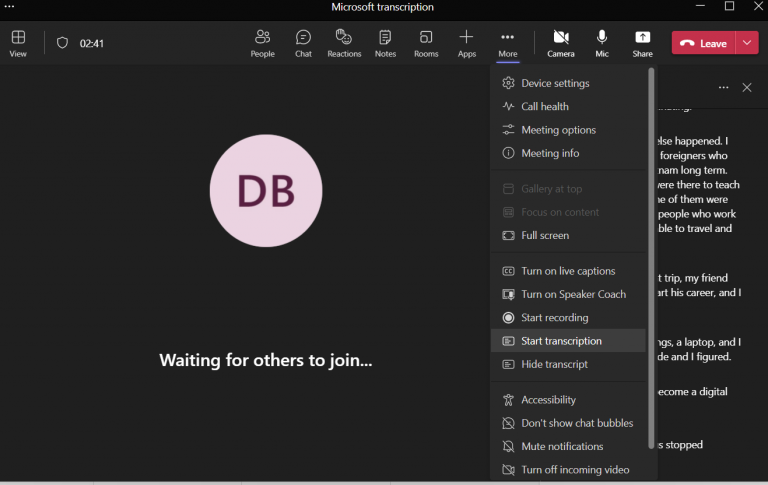 Step 2: After the meeting ends, go to isLucid in the Meeting History section. There you will find a button Import Native Transcripts on the top left. When you press it, your transcription will appear there in a few minutes.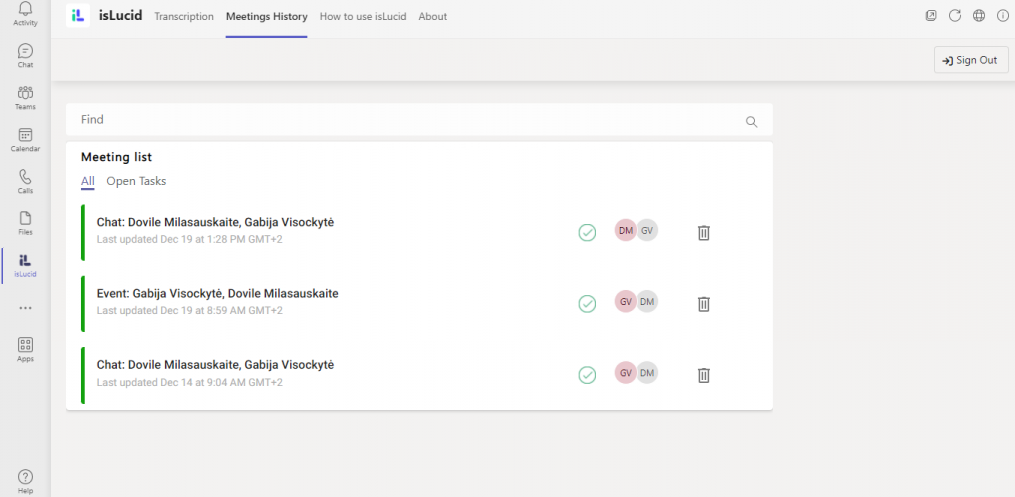 Now you can create all of the actionable items like it is showed above, manage, share them, or import to your project management platform.
isLucid for a better meeting management
isLucid bridges verbal information with task management software, allowing team members to focus on the discussion and have organized written information. This helps to make a better decision-making process and keep teams aligned. Information from conversations are being organized in seconds and stored in any chosen task management platform, CRM or ATS. All the meetings become searchable, sharable, and actionable. By using integrated OpenAI models, notes and tasks are paraphrased and ready to go.
Communication between team members can become clear because of actionable items such as tasks, bookmarks, or meeting minutes. You can also save important meeting information with isLucid and share it with anyone you like – new employee or the one who did not attend the meeting. This helps to save time on keeping in touch with all decisions made during the meeting. With isLucid, organize and access all of your meetings at any time – they are stored for an unlimited amount of time. You can go back to a meeting that happened a long time ago and organize it the way you like or share it with your colleagues.
If you are interested in isLucid digital meeting assistant, get it for MS Teams.
You can also book a demo and get a walkthrough: Book a Demo.