Share:
It is not a big secret that online meetings might be not a very interesting part of every job. Companies have one option to get this through in the most productive way possible. It is meeting transcription.
By having a meeting transcript every employee can have a meeting summary. The file contains all the main tasks highlighted. Or if they like to read – get through the transcripted meetings and take notes. But what if the transcription has expired?
Native Microsoft Transcription
Native Microsoft Teams Transcription is a powerful and highly accurate speech recognition tool. It can be used to quickly and easily transcribe audio recordings into text documents, making it easier for those who need to keep track of conversations, meetings, and lectures. The technology behind Native Microsoft Transcription is based on machine learning and artificial intelligence algorithms. With this technology, the software can learn to recognize different voices and accents with high accuracy. It also supports multiple languages, so users from all around the world can benefit from the transcription service. In addition, it offers several features such as automated editing tools that make the process of transcribing audio files even more efficient.
By enabling live transcription participants can have written audio in real time. Speech to a text file will be saved after the meeting. Full transcription can be saved as a Word and OneDrive file. The transcription tool works with over 80 languages and is capable with all devices. The meeting transcriptions using Microsoft Teams have an expiry of 60 to 120 days. After this period of time meeting transcription will be deleted from your Teams account. If you want to manage your meeting transcription for longer period of time, this is where isLucid transcription service takes part.
Import Meeting Transcription to isLucid Meetings History
isLucid is a meeting information management software that is used to transcribe a meeting, the creation of tasks, and meeting minutes files. With isLucid you get unlimited time for meeting audio transcription storage. You can access transcriptions even from a meeting that happened 3 years ago.
isLucid is easily working with MS Teams. All you have to do is find isLucid on an app menu in MS Teams and after you start to record the meeting press "Start meeting assistant". After the meeting, just press "Stop transcription". All of the meeting notes and information will be held on the left side of the menu after selecting isLucid app.
When people manage their online meetings in real-time native, isLucid performs best. It implies that all tasks and meeting minutes are created during the meeting to avoid having to do it later. A sales tool is a type of software or platform that helps businesses increase their sales. It can provide valuable insights into customer behavior, help with lead generation and management, and even automate certain processes.
It can also simplify the process of creating reports, tracking progress and analyzing data to help inform decisions. Sales tools may also offer features like predictive analytics, personalized recommendations and automated follow-up emails to streamline the entire sales process from start to finish. Overall, a sales tool is an invaluable asset for any business looking to optimize their sales efforts.
Only isLucid transcription tool offers this feature. Native transcription version is preferable for those who handle their meeting information later.
How To Start And Import Native Transcription
Step 1: Start a Microsoft Teams meeting, and unmute yourself. After pressing on the three dots find  Start Transcription.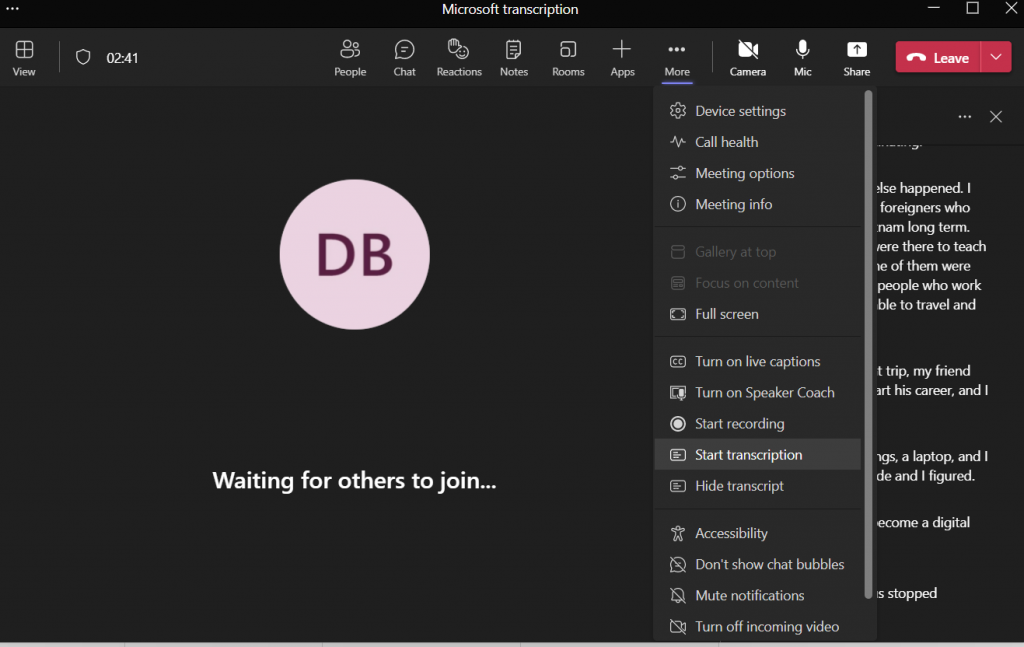 Step 2:
After the meeting ends, go to isLucid in the Meeting History section. There you will find a button
Import Native Transcripts
on the top left. When you press it, your transcription will appear there in a few minutes.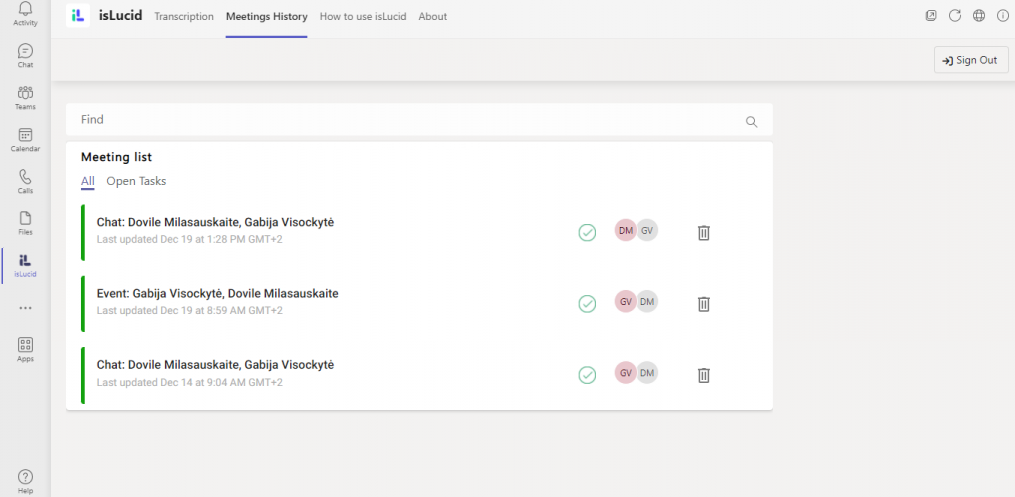 Why choose native transcription with isLucid?
When you need transcription services, it is important to choose a reliable company that provides the best quality of work. That is why many businesses choose native transcription services with isLucid. With isLucid, you can be sure that your transcriptions are being handled by experienced professionals who understand the nuances of the language they are transcribing in.
Having a meeting transcription generated with isLucid allows meeting participants to get back at shared information at any time. Native transcription uploaded to isLucid can be reached at any time – even if online meetings have happened more than a year ago.
Native transcription from Microsoft Teams imported to isLucid has all the same features as a real-time recording primary set-up. You can easily record and transcribe, create and edit tasks, create meeting minutes file or use it for project management.
What to do next?
Transcribe your meeting with isLucid meeting management tool. If you are tired of taking notes by hand or have no time for writing, this meeting management tool will help you and everyone in the meeting be more productive. Voice recognition makes your meeting easier to follow because of level of accuracy that isLucid has.
If you are interested in isLucid digital meeting assistant, get it for MS Teams with a free plan to try:  isLucid Download Page.
You can also book a demo and get a walkthrough: Book a Demo.