With the support of Microsoft, we are glad to be the first in the market who offered an innovative transcription service that enables call participants to create action items and be more efficient. Machine learning and flexible integrations bring the ultimate user-friendly experience.
Save time on wrap-up emails, task assignments, and descriptions. isLucid is a productivity hack we want to share with you. Just look how it manages expectations!

Add isLucid to The Meeting
Select the agenda link topics to the transcript. See suggestions on important details, capture tasks, meeting minutes and opportunities. Sync it with your already used project management software, CRM or ATS for instant storing.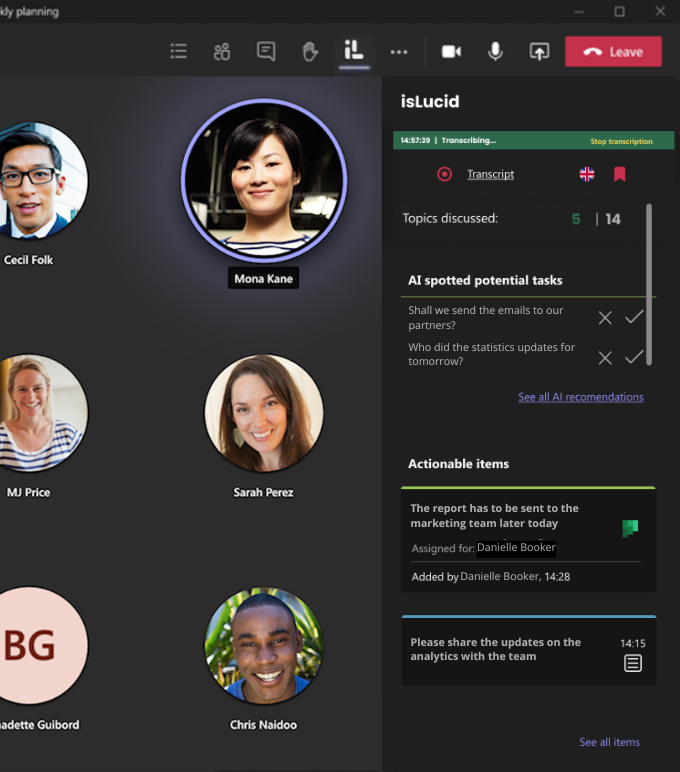 Manage meeting information
Have a better meeting view – full transcript linking to your topics discussed, tasks, bookmarks and more. Create additional tasks from the transcript, generate meeting summaries and store it into your management software.
Were having meetings on Zoom, Google Meets or Microsoft Teams? import all transcriptions to isLucid meetings history for further management and safe storing.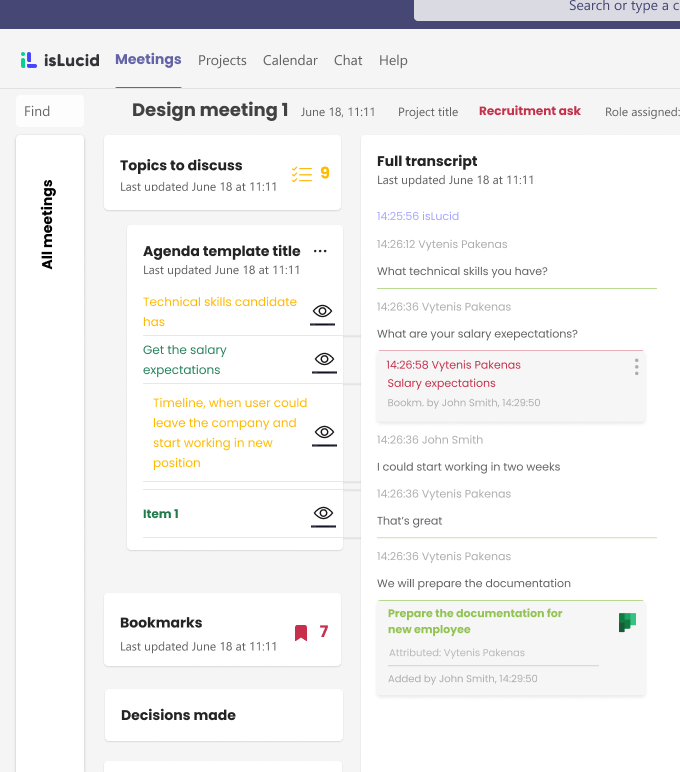 Share meeting outcomes
Download meeting summaries, provide access to those who missed the meeting. Be fully aligned with your team on meeting outcomes.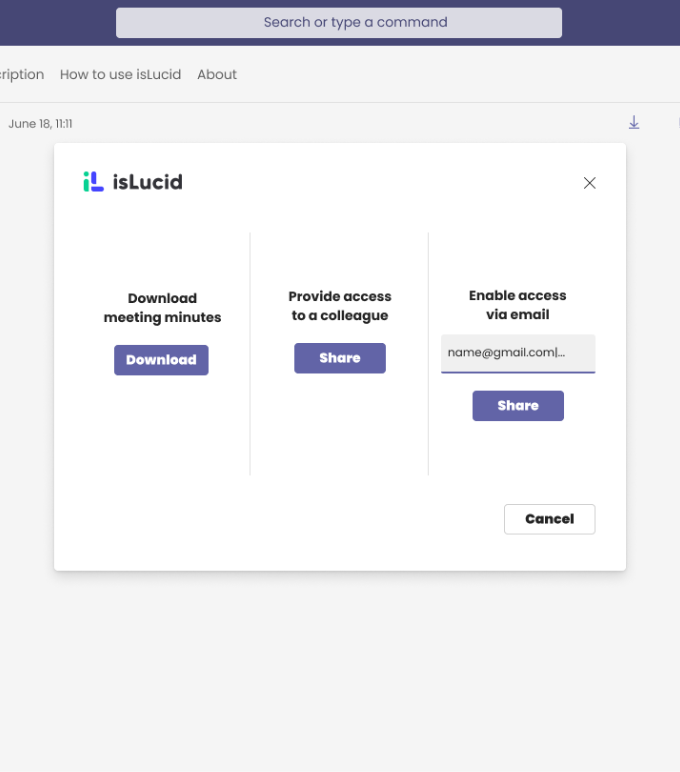 See what our customers are saying
For me and my time isLucid has been the discovery of the year. The transcriptions not only in English but also in French, German and even Swiss German (!) are very accurate and help us on a daily basis to efficiently save information from in- and external meetings…
When most of the meetings have moved virtual, this program has significantly improved our team's work processes. Since I have spent the most time in meeting minutes preparation in our company, I am delighted that such a time-optimizing product has appeared on the market. The program is easy to use and convenient…
This transcription application/tool has already paid for itself in time savings. For client interviews, we had been transcribing the recorded videos manually. This task is now easily assisted by the isLucid application, and we are saving 60-70% of the time required to generate a complete and accurate transcription…
Trusted by organizations in Pharmaceutical, MedTech, Recruitment, Technologies,
Logistics and other sectors from Australia to Europe and North America.

You will get a free trial for 2 weeks. Install our verified app from Microsoft AppSource to your Microsoft Teams account. 
Or join a quick tour by booking a call with us and we will show you what isLucid is capable of!