Share:
What is an automated summary?
An automated summary is a condensed version of a text or document that is generated automatically by software tools that use artificial intelligence and natural language processing algorithms to identify and extract the most important information and key points. Automated summaries are often used to save time and increase efficiency, as they can quickly provide a concise overview of a longer text or document.
Automated summaries can be generated for various types of content, including news articles, research papers, business reports, and more. The quality and accuracy of automated summaries can vary depending on the tool and the complexity of the content being summarized. Some tools may simply provide a summary of the main points, while others may offer more advanced features such as sentiment analysis, topic modeling, and keyphrase extraction.
While automated summaries can be useful for quickly reviewing and understanding the main ideas of a text or document, they should not be relied upon exclusively, as they may not capture all of the nuances or important details contained in the original content. It's always a good idea to review the original content in full to ensure a complete understanding of the information.
What are automated meeting notes?
Automated meeting notes are generated automatically by software tools that use artificial intelligence and natural language processing to analyze audio or video recordings of meetings and extract key information such as agenda items, action items, decisions, and important discussion points. These tools can help to save time and increase efficiency by eliminating the need for human note-takers and by providing a quick and accurate record of the meeting. Automated meeting notes can also be shared with all meeting participants, allowing them to review and verify the accuracy of the notes and ensuring that everyone is on the same page. Some automated meeting notes tools can even integrate with project management software and calendars to automatically create follow-up tasks and reminders. However, it's important to note that automated meeting notes may not be as accurate or comprehensive as notes taken by a human, especially in cases where there is background noise or overlapping conversations. Therefore, it's always a good idea to review and edit automated meeting notes to ensure accuracy and completeness.
What people do miss with most automated summaries?
isLucid founder Vytenis Pakėnas has the answer to this question:
"Details that make the difference. Generic AI models provide generic answers. Highlights are also quite often "generic". The pure logic behind this tells, that in implementation wise you can go with decision trees (IF -> Then) and keyword spotted (Somebody mentioned "schedule" -> trigger to the workflow for some Booking feature).
Modern "AI" (I still call it Machine learning) is looking for patterns. When multiple people marked something as a highlight and classified this as a task -> it indicates to the model, that probability of a task for a similarly structured text (transcript) is high. This approach increases the number of potential tasks captured in an automated way.
So here is the "but(t)". Once you have something specific to the industry, role, or person – it doesn't work well. I have ADHD, so the connection between my important thoughts can be separated by a paragraph about the new cool Lego I bought. And such models fail.
You are still needed as a manager to do the job. Either place important bookmarks to review them manually later OR try to remember stuff/re-read everything in the transcript.
We try to tackle this with isLucid by rephrasing what you indicate as an important piece. And we provide you with more False-Positive results on potential tasks so you'd not miss out on something important."
How can artificial intelligence help?
Artificial intelligence can be used to create automated summaries by leveraging natural language processing (NLP) techniques. NLP is a subfield of AI that focuses on teaching machines to understand and analyze human language.
Here are some ways AI can be used to create automated summaries:
Extractive summarization. This approach involves selecting the most important sentences or phrases from a text and using them to create a summary. AI models can be trained to identify key sentences based on factors such as word frequency, relevance to the topic, and position in the text.
Abstractive summarization. This approach involves generating new sentences that capture the essence of the original text. AI models can be trained to understand the meaning of a text and generate a summary that conveys the most important information in a concise and coherent way.
Hybrid summarization. This approach combines elements of both extractive and abstractive summarization. AI models can be trained to identify important information from a text and then use that information to generate new sentences that capture the essence of the original text.
Overall, AI can help to create automated summaries by leveraging advanced natural language processing techniques. These automated summaries can be useful for a wide range of applications, including news articles, legal documents, and scientific papers.
isLucid automated meeting notes
isLucid has the ability to generate such automated meeting notes as tasks, bookmarks, meeting minutes during an online meeting or after. After the meeting, you can create actionable items in the isLucid meeting history section. All you have to do is take these 4 steps:
Step 1: Navigate to the isLucid tab
On the left side of Microsoft Teams press on the isLucid icon and select "Meeting History". Choose a meeting from the list that tasks you want to manage.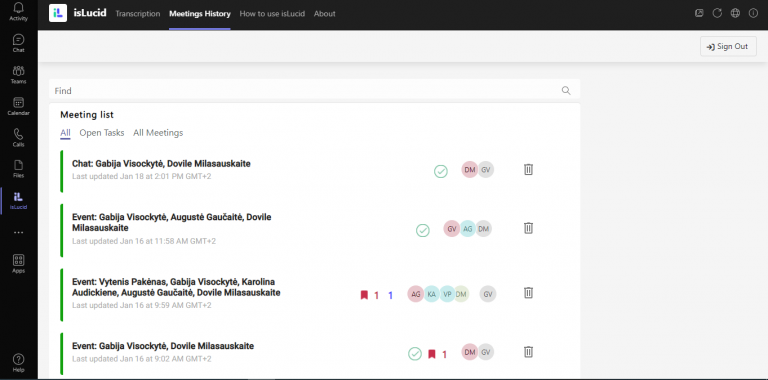 Step 2: Select parts from the transcript
In the meeting transcript scroll and find a part that you want to manage. Press on a conversation part that actionable item you want to create. You can choose multiple parts that will be included in the same task.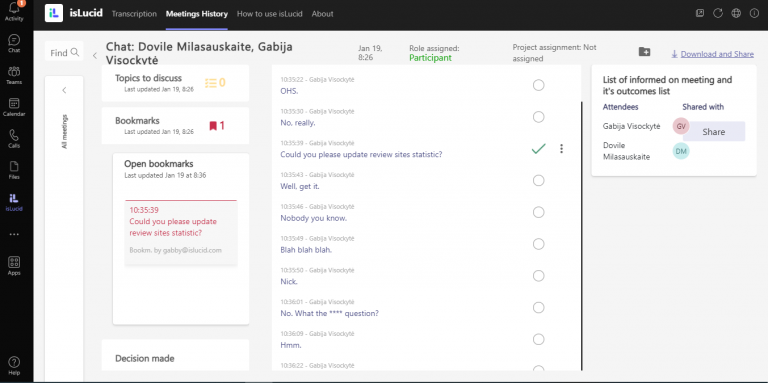 Step 3: Choose there to add a task
Press on three dots on the right side of the marked item. Choose there you want to add your actionable item.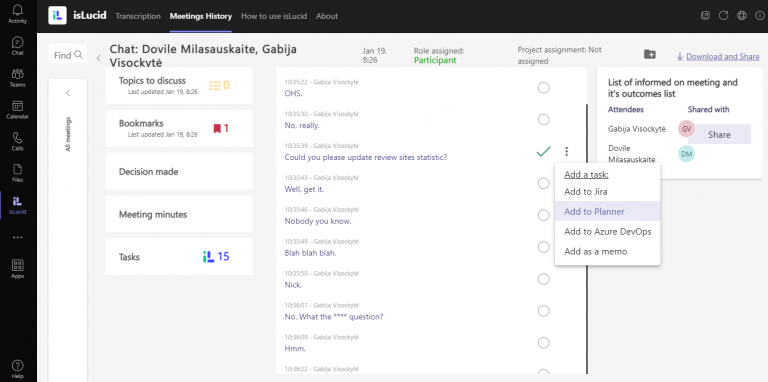 Step 4: Discribe your task
Choose where you want to locate your task – what group or assignee it will be dedicated. After everything is completed, press the "Create" button. the Created actionable item will be visible on the left side of transcript panel.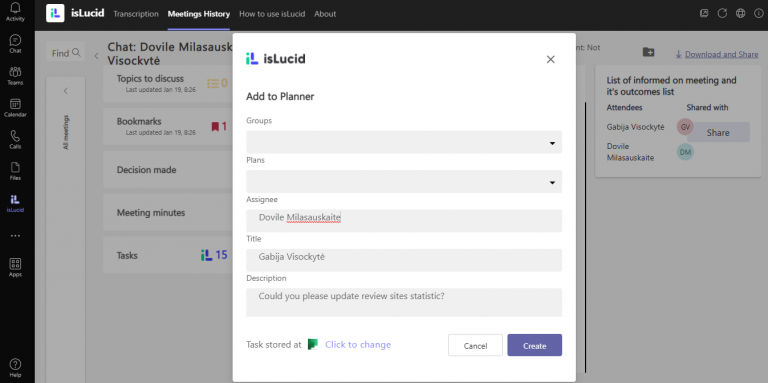 With the help of OpenAi, isLucid makes it easier for its customers to generate tasks. Before creating an actionable item to a preffered location, you can paraphrase your task with OpenAi generated task. This will make your task more formal and shareable. How to create OpenAi generated actionable items read here. 
Improve your meeting management with isLucid
isLucid bridges verbal information with task management software, allowing team members to focus on the discussion and have organized written information. This helps to make a better decision-making process and keep teams aligned. Information from conversations are being organized in seconds and stored in any chosen task management platform, CRM or ATS. All the meetings become searchable, sharable, and actionable. By using integrated OpenAI models, notes and tasks are paraphrased and ready to go.
Communication between team members can become clear because of actionable items such as tasks, bookmarks, or meeting minutes. You can also save important meeting information with isLucid and share it with anyone you like – new employee or the one who did not attend the meeting. This helps to save time on keeping in touch with all decisions made during the meeting. With isLucid, organize and access all of your meetings at any time – they are stored for an unlimited amount of time. You can go back to a meeting that happened a long time ago and organize it the they you like or share it with your colleagues.
If you are interested in isLucid digital meeting assistant, get it for MS Teams.
You can also book a demo and get a walkthrough: Book a Demo.