Share:
A leading B2B review platform recently presented isLucid with an esteemed industry award in recognition of its stellar performance in the communication software category. 
CompareCamp, one of the most well-respected and trusted sources for in-depth B2B reviews, recently commended isLucid as one of the best communication platforms this year. The review platform provided isLucid with a Rising Star Award, a recognition typically given to communication software that has acquired a fast-growing number of followers and positive mentions from social media users. 
Among several variables, CompareCamp observed the striking volume of encouraging feedback and social mentions on our brand as a sign of customer satisfaction. CompareCamp software experts also authored a comprehensive isLucid review and concluded that it delivers cutting-edge features created for various organization activities and purposes. It also mentions the phone, email, tickets, and training support available to customers with issues.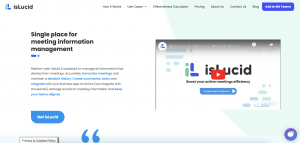 In their assessment, the reviewers cited isLucid's ease of use and value for money. Among the features they highlighted are its meeting transcription and management, sharing capabilities, and information recommendation and documentation.  
The review mentioned that isLucid's meeting transcription and management features improve an organization's efficiency and accuracy. Users can employ voice commands or voice-to-text transcription to customize meeting minutes to suit their needs. In addition, the software captures meeting notes in real time without error, letting you engage and listen to valuable conversations without interruption. As a result, it shortens meeting durations and increases client acquisition or candidate hiring time. Therefore, the product reinforces meeting quality, resulting in enhanced internal communication and a more successful team.
Besides those mentioned, the report acknowledged the platform's information sharing capabilities. With just one click, team members can produce meeting minutes or tasks that they can generate in a shareable document. You can store these tasks in your preferred customer relationship management (CRM), project management, or applicant tracking system (ATS) software. 
Following the team meeting, employees can access transcripts in the Meetings History. In addition, staff can search, download, create additional actionable items, or share documents with absent co-workers. 
Furthermore, the software reviewers praised the solution's information recommendation and documentation feature. isLucid leverages machine learning to suggest details that you should keep in mind. It identifies essential data for scoping, which companies can enable at team meetings to broaden discussions. 
Given these factors, the brand provides onboarding and training sessions to assist users in maximizing the platform. In addition, clients who availed of a higher subscription plan also get a designated success manager.
isLucid would like to thank CompareCamp for presenting us with such a distinguished award. The honor of earning this accolade from such a well-known organization motivates us to deliver top-notch communication solutions to a variety of businesses constantly.
We also would like to thank our loyal users and clients for trusting us with their business communication requirements. Rest assured that we will continue providing superior services and features so that you can improve your total experience and appreciation of our brand. We look forward to more decades of partnership and collaboration with you.