Share: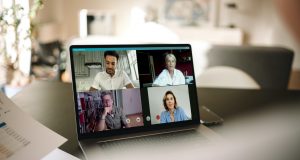 Quick tips to seamlessly navigate a Microsoft Teams meeting
In the past two years, Microsoft Teams has become a household name to many. Boardroom meetings have been replaced by screens and suddenly, it's not just about being present and taking notes. Microsoft Teams has been a saving grace to many who need to stay on top of their work without being able to meet in person.
During the past two years, the active users on Microsoft Teams have nearly doubled, currently standing at 250 million monthly active users. It's efficient, safe, and easy to use. Microsoft Teams is a must-have for many big companies and small businesses alike. It's specifically designed to simplify group work and create an easy-to-use channel for conversation, work progress, notifications and so much more.
However, at first glance, it can feel slightly intimidating. Here are a few quick tips to help you get started and become a Microsoft teams pro in no time.
How do I join a Microsoft Team Meeting for the first time?
If you've been invited to join a Microsoft teams meeting, no stress! The sign-in process is super simple and specifically designed to be convenient, easy-to-use, and hassle-free. All you need to join a specific meeting is the unique Teams meeting link. Follow the link and select 'join meeting'. You have the option to either join the meeting using your web browser or download the desktop app. We recommend downloading the app so you can create your own account and benefit from the variety of tools the platform has to offer.
How do team meetings work?
Meetings in Microsoft Teams are a great way to collaborate with other members in your office, have 1v1 meetings, and connect with others while working remotely. Meetings in Microsoft Teams include audio, video, and screen sharing, allowing you to effortlessly communicate and pow-wow with team members in an efficient and pro-active way. After connecting via an invitation link, or setting up a call yourself, you can easily connect with team members from all over the world. Did you know that 250 people can join one Teams meeting? We're here for it!
How do Microsoft teams use video meetings?
During a Microsoft Teams Meeting, you can choose to join with your web camera on your device. As you join the meeting, you will be asked permission to access your device's camera and microphone. This will allow you to join in on the video conference and participate in the Teams meeting. During the meeting, you also have the option to switch off your microphone or camera at any given time.
Helpful Shortcuts when using Microsoft Teams
We love a great shortcut! If you're getting comfortable with Microsoft Teams and you're looking for an even quicker way to open those tabs and find what you're looking for – we've compiled a short list of all our favourite shortcuts!
Open Activity/Ctrl+1
To open Chat/Ctrl+2
Open Teams/Ctrl+3
To open Calendar/Ctrl+4
Open Calls/Ctrl+5
For macOS users, cmd button works instead of ctrl.
Now you can seamlessly move between tasks, open calls and work on teams with just a few quick taps on your keyboard. Super efficient and bound to impress a co-worker or two.
Easy and efficient Microsoft Teams Transcription
Online an normal meetings can get super busy – we get it. Not only do you need to keep track of everything being said, but keeping notes and remembering all the key points can feel time-consuming and stressful. We've got it covered! Save on average 15 minutes per meeting for wrap-up and tasks assignment using isLucid.  Get meeting minutes document once Microsoft Teams meeting is finished to share with external stakeholders, while the internal team already sees tasks within your selected software.
Download isLucid application from the AppSource here and receive a free trial. Download here: isLucid Download Page
Or book a demo to get a walkthrough : Book a demo