Share:
In this blog article, let's compare the most popular meeting platform in the digital field. We will look at the main differences and benefits and get into the user experience by using them. It is no secret that these video conferencing and communication platforms bring together millions of users for remote work or study purposes.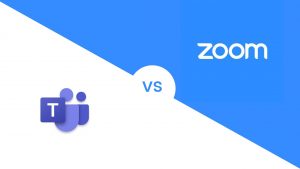 How do both platform's work? What are the main differences?
The main difference is that Teams offer video calls, 2GB personal cloud storage and unlimited chat, whereas free Zoom is limited to video conferencing. The two free versions are also different in terms of call deadlines when it comes to the time limits placed on calls. The main point in Zoom where each meeting platform is focused on video and audio conferencing, and Microsoft Teams is focused on the communications of chat, face-to-face video and audio conferencing, business voice and organizing your team's ideas and documents and also to bring everyone's applications in a shared workspace.
You can access other Office 365 such as Microsoft Planner or also use compatible software such as Azure DevOps, Atlassian Jira. These platforms use small and large business meetings and scheduled meetings can be 100 people mostly in Zoom and 500 people with "a large meeting" add-on. And Microsoft Teams has a capacity for 250 people and 100, 000 live events. As far as meeting time is concerned, Zoom offers 40 minutes for a free account and 24 hours for a professional account. MS meeting has no time limit, which helps organizations hold long meetings through video conferencing.
Main features and in-meeting experience.
When it comes to the in-meeting experience, both offer useful options helpful such as custom and blurred backgrounds, a variety of viewing modes, small group rooms and text chat. On both meeting platforms, users are also able to share their screens during presentations, making it easier for audience members of the public. Where Microsoft Teams shines is in its integration into the broader suite of Microsoft 365 suite of apps and services. 
For example, Teams is closely connected to OneDrive and Sharepoint, making file-sharing easy and intuitive. An upcoming PowerPoint integration, meanwhile, is planned to make managing notes during presentations and engagement with the public audience less challenging. That said, Zoom does boast hundreds of third-party integrations through its App marketplace, which is growing dramatically. The main point is that Teams have a lot of apps that can be used internally, you just need to download it from the AppSource or directly install it from the MS Teams application. Zoom only has third-party integration. Microsoft Teams are like a full communication platform where you can make video calls, chat, collaboratively use the MS Planner to plan tasks with your team and a lot of different apps.
 In comparison, Zoom as a company is a much more recent organization that has expanded, especially during the Covid-19 pandemic, however, Microsoft Teams has an extensive client base that can offer a wider range of services and applications.
MS Teams and Zoom Security Questions
As far as video conferencing is concerned, security, end-to-end encryption (E2EE) is considered the holy grail. Under this system, communication among meeting participants is encrypted using cryptographic keys held solely on user devices. This means that no third party, including the service provider, has access to the keys for decrypting private meeting information.
Microsoft Teams is a few steps behind where the E2EE is concerned. Only very recently did Teams users have access to this additional level of protection, and even then only for 1:1 calls (provided that both users remember to enable the feature). MS Teams has multi-factor authentication, support of rights management services, encryption at rest and in transit, secure technology of transfer protocol in real-time as well. In recent months, both Microsoft and Zoom have also taken steps to prevent a practice known as "Zoombombing", whereby an uninvited individual invades and disrupts a meeting. Zoom has set up mandatory meeting passwords, waiting rooms and easier ways to eliminate disruptive participants. Teams, on the other hand, recently unveiled similar meeting controls to protect themselves from gatecrashers, as well as a deactivated video feature that should help limit interruptions.
How about pricing and capacity?
Microsoft Teams clients can choose from 4 pricing plans. The most basic version of Teams, The most basic version of Teams, available at no cost, offers a video conference for up to 300 participants and a maximum meeting time of 60 minutes, and chat and collaboration features for a maximum of 500,000 users.
Organizations interested in accessing additional productivity applications and secure cloud services should consider investing $5/month in Microsoft 365 Business Basics, Microsoft 365 Business Standard for $12.50 per user, monthly, or Office 365 E3 for $20 per user, monthly. 
Zoom provides five pricing options, starting with Zoom Basic for personal meetings, which allows you to accommodate up to 100 participants up to 40 minutes for group meetings. Small businesses should look at Zoom Pro; for $14.99 per month, per licence, you can accommodate up to 100 attendees in unlimited group meetings. For $19.99 per month, per license, small and medium-sized businesses can receive Zoom Business and accommodate up to 300 attendees per meeting.
The number of users, which communications platform is more used by corporations.

Zoom Meetings platform is the main video conferencing application for the masses with 200 million daily users. At the top of the image, we can see a diagram of the teams winning, and 60% of many CIO's expect to normalize on Microsoft. Microsoft Teams ranks prominently in this category  — it has about 270 million users per month paying for its productivity.