Share:

isLucid on click sign-in
To run isLucid you need to take the following one step. It is going to be either of these stated below:
After registration in https://islucid.com, you will get an email with a link. (NOTE: Check SPAM folder just in case)
You can contact our customer support team about the link.

OPTIONALLY: You can do it Yourself with the link, but change "NewTenantId" with your tenant id of Microsoft Teams.
https://login.microsoftonline.com/NewTenantId/adminconsent?client_id=98b70422-b0b2-41bf-8673-60d85f5d38c7&state=123456&redirect_uri=https://lucidteamsapp.azurewebsites.net/msteams/adminconsent
Enable isLucid for all of your users within your managed organization
If your organization has restricted access to install applications on Microsoft Teams, follow these steps: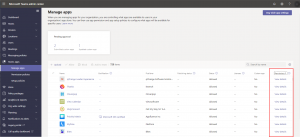 To grant organization-wide consent to install Microsoft Teams Applications, follow these steps:
In the left navigation of the Microsoft Teams admin centre, go to Teams apps > Manage apps.
Do one of the following:

Search for isLucid Application, click the app name to go to the app details page, and then select the Permissions tab.
Sort the Permissions column in descending order to find the app, and then select View details. Doing this takes you to the Permissions tab of the app details page.

Under Org-wide permissions, select Review permissions and consent.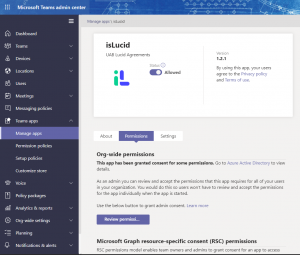 You must be a global admin to do this. This option isn't available to Teams service admins.
4. On the Permissions tab, review the permissions requested by the app.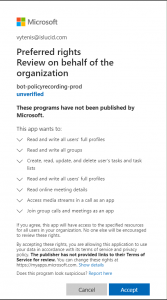 5. If you agree with the permissions requested by the app, click Accept to grant consent. A banner temporarily appears at the top of the page to let you know that the requested permissions have been granted for the app. The app now has access to the specified resources for all users in your organization and no one else will be prompted to review the permissions.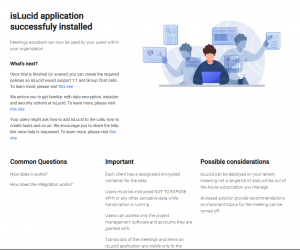 6. After successful registration you will be directed to this page above.
Pre-install the application for all user
See the tutorial on how to pre-install the isLucid application for all users within your organization: Preinstall isLucid for all users
This is enough for Scheduled calls!
Microsoft by design is not supporting side pannel applications (the right-hand area on the call screen) in 1:1 and group chat calls. With isLucid, we still bring the experience of traceable and actionable meetings. To achieve that we built a different type of bot and it requires extended permission provisioning by you. Please follow the optional step here to enable isLucid on all types of calls across the Microsoft Teams
Follow this link for further explanation, how to set up isLucid extended install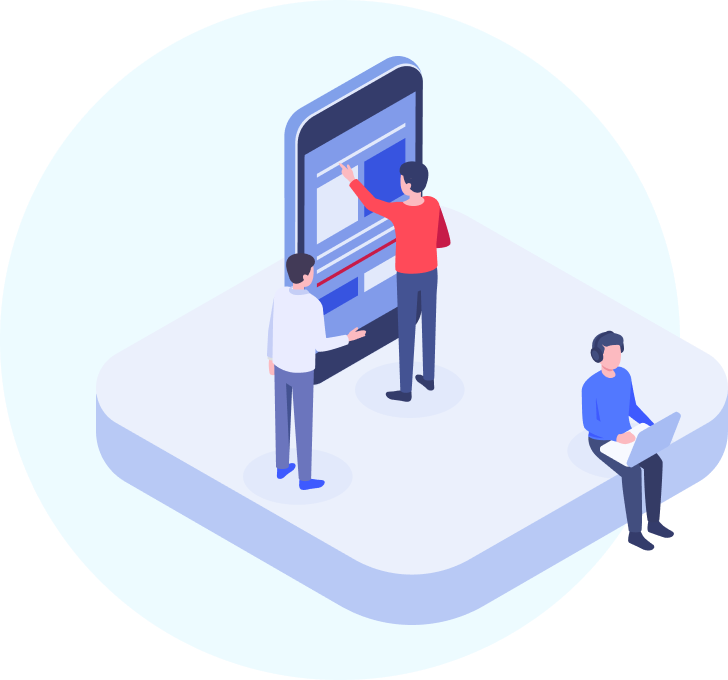 Still have open questions? Ask away!