Share: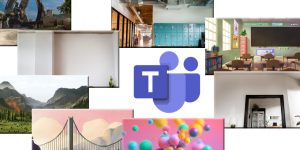 We've got your back! 
It's no secret that the modern-day boardroom has evolved into remote meetings that are fueled by coffee, good internet connections, and our trusted sidekick – Microsoft Teams. However, finding that perfect spot to have an important business call amid your everyday surroundings can sometimes prove more tricky than initially thought. So, to help you navigate your Teams Meetings, here are a few things you need to know about changing your Microsoft Teams Background.
What is considered the perfect background?
Choosing the perfect background for your Teams meeting is largely dependant on the type of meeting you'll be having. Scheduling a group call with friends? The world is your oyster and you can include everything from the BBC endorsed wildlife stills, or a personalized image and effect. However, if you're preparing for a business meeting, we recommend keeping the background as simple and professional as possible. If you're looking for a professional digital background, many free stock image websites, such as PEXELS, offer over 500 engaging video conference backgrounds, which include everything from offices to board rooms. Browse some images here: https://www.pexels.com/search/background/
How to change the background on Teams?
If you're looking to change your background in a Teams meeting or call, Microsoft Teams offers a variety of quick and easy options. You can either blur your current background, replace it entirely with an image of your choice or you can use a Teams virtual background template.
Changing your background before a Teams Meeting:
If you'd like to prepare your background before the meeting starts, select the 'Background Filters' button while setting up your audio and video settings. The options available to you will appear on the right side of your screen. These options include either blurring your current background, or you can replace it with one of the images provided. If you aren't too fond of any of the provided images, select 'Add New' and select one of the images saved on your device.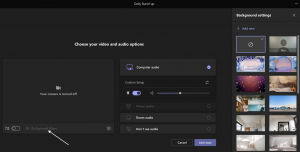 Changing your background during a Teams Meeting
Oops! You're on a call and you've realized that your current background is not working. Instead of turning off your camera, scroll over to the meeting controls and select 'More Actions' and select 'Apply Background Filters'. Once again, you'll be given the option to either blur, replace or upload a new image as your background. Luckily, you can also select 'Preview' before committing to your new background. As soon as you're ready, you can select 'Apply' and your chosen background will be in full effect.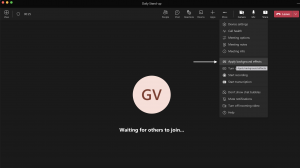 Ready to step up your online meeting game? We've got it covered. Download Microsoft Teams here:
With all this talk about backgrounds, who's keeping notes during the meeting? No stress – we've got you covered! Let's go! Bridge the gap between communication and project management by incorporating isLucid Transcription into your Microsoft Teams. Download yours here: https://appsource.microsoft.com/en-us/product/office/WA200002385