Share:
Transcriptions and audio recordings are completely different; however, they share some similarities and maybe this is why the two constantly get mixed up and misinterpreted. In this blog post, we will try to understand their purpose, how they differ, and which one is the best for you. 
So first of all, what is transcription?
Talking in simple terms a transcription is converted text. A transcription converts an audio or video recording into text only. It can be done manually or automatically. Automated transcription has been becoming more popular when compared to manual ones. One of the main contributing factors is the fact that automated transcription is a lot faster than manual one. It being cheaper also helps it stand out as the better option. Another positive factor that helps it grow in popularity is its ensured safety. It provides a more secure approach as you do not need to hire a third party or give the task to one of your employees who has nothing to do with the material being transcribed. If the transcription is done automatically only the necessary parties can access the information. This ensures privacy and strengthens information security.  
What is an audio recording?
An audio recording is logged sound. It captures its properties and stores it for later use. Once you finish your recording you can manually store it in the preferred location or the system can automatically route the file to specified directories for saving and reviewing. 
What are their differences and which one suits you best?

 
While the transcription only keeps the text, the recording keeps all of the sound data. Meaning if there was a 3-hour meeting it will have the audio file for that whole session. If a business constantly has meetings and only keeps the recording it makes it hard to ensure efficient information flow. Imagine if you miss a meeting or need some clarification. You would need to spend a lot of time going through that recording and finding the necessary information. Not to mention it isn't always easy gaining access to a recording with the voice and information of many participants. Recordings also take up a lot more space than transcriptions. If there are numerous recordings per month it would add up and would require a lot of space to store. Transcriptions only keep the text and ensure that you will not have to give it a lot of space. All of this ends up making transcription the less legally binding option. It is better suited for companies and is more business-like.
How to improve user experience with transcription during online meetings?
There are several ways to improve the user experience with transcription during online meetings:
Use a high-quality transcription service. Choose a transcription service that provides accurate transcriptions in real-time. This will help participants follow along with the conversation without missing important information.
Provide access to the transcription. Make the transcription available to all participants in real time. This can be done through a shared document or by displaying the transcription on the screen.
Use clear audio. Encourage all participants to use high-quality audio equipment and avoid background noise. This will help the transcription service produce more accurate transcriptions.
Customize the transcription. Some transcription services allow for customizations such as adding speaker names, timestamps, or keywords. Utilizing these features can make it easier for participants to navigate and search the transcription.
Allow for corrections. Sometimes, the transcription may not be completely accurate. Allow participants to make corrections or additions to the transcription as needed.
How does isLucid do it?

 
Your time is our priority. Instead of going back to a recording or a transcription, we help you take notes of your preferred details to be more organized. isLucid helps you ensure that your workflow is smooth and efficient by helping you create tasks and easily integrate them into your favorite project management software. isLucid also strives for you to be more accountable as you can get meeting minutes from calls and have tasks that help you stay traceable & organized.
How to start transcription at isLucid? 
Step 1: Start your meeting
Once the meeting has started open the isLucid application. If the app was not pre-added before in the organized event, press the three dots in the top right of your meeting and select the isLucid icon to add it.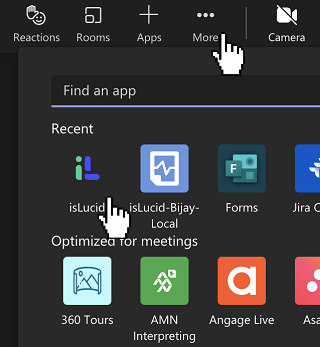 Step 2: Start the transcription
Press the "Start meeting assistant" button.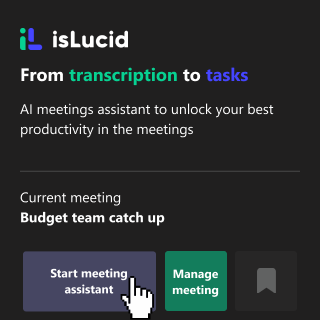 Step 3:  Active transcription
The green ribbon indicates that the transcription is active. A timer on the left of the ribbon indicates how long the transcription has been running. By pressing "snooze" you can also temporarily pause the transcription.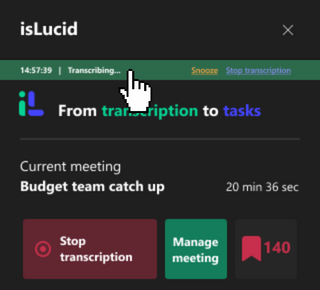 Step 4: Stopping the transcription
Press the "Stop transcription" button. The transcription can also be stopped by pressing the ribbon button as indicated.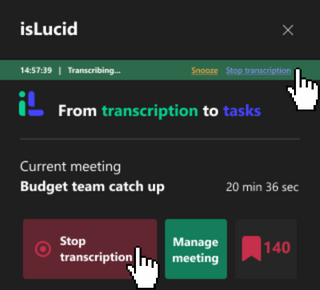 Security at isLucid 
We do not record your audio calls and you may stop the transcription as you please.  Only the meeting participants can access the data or the people it has been shared with. 
After the isLucid bot's registration, the audio stream is sent to the transcription service. Transcription service is enabled only when a user enables the service within the call (clicks Start transcription).  After data processing, we are not storing any information associated with our clients and/or identified as private. Data processing consists only of doing the transcription, assigning transcription to a specific user, sending it back to isLucid Teams application for demonstration, and storing (transcript) within the dedicated for client container. 
You own your data. Audio data, once transcribed, is destroyed. We do not store any recordings. This limitation is not negotiable, even if you would insist on us making this. It is due to the facts of privacy and Microsoft regulations. Transcription result – text information is again transmitted over the secure (TLS) bridge and is stored in your tenant environment. We do not store transcription results at our side, leaving you having only a copy of a full transcript. MS Teams by default stores attachments for apps (as isLucid is treated) based on the storage and access policy of your organization. These policies generally should be created by your organizational admins. Policies define if call/chat information stored is accessible only to the participants or to other people within your organization. The same as data, options are owned by you. 
Ending note
Although transcriptions and recordings both have their uses, it is crucial to understand which fits your needs best. In most business settings transcriptions are easier to work with as they provide text that can easily be used as data. When you combine transcriptions with tools that can convert them into actionable items you can increase your company's efficiency exponentially.  
What is isLucid?
isLucid bridges verbal information with task management software, allowing team members to focus on the discussion and have organized written information. This helps to make a better decision-making process and keep teams aligned. Information from conversations are being organized in seconds and stored in any chosen task management platform, CRM or ATS. All the meetings become searchable, sharable, and actionable. By using integrated OpenAI models, notes and tasks are paraphrased and ready to go.
Communication between team members can become clear because of actionable items such as tasks, bookmarks, or meeting minutes. You can also save important meeting information with isLucid and share it with anyone you like – new employee or the one who did not attend the meeting. This helps to save time on keeping in touch with all decisions made during the meeting. With isLucid, organize and access all of your meetings at any time – they are stored for an unlimited amount of time. You can go back to a meeting that happened a long time ago and organize it the they you like or share it with your colleagues.
If you are interested in isLucid digital meeting assistant, get it for MS Teams.
You can also book a demo and get a walkthrough: Book a Demo.