Share: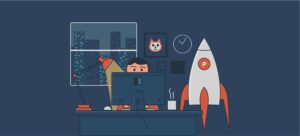 This week, we presented our app isLucid on Product Hunt. In general, Product Hunt is an American website to share and discover new products. Users submit products, which are listed in a linear format by day. The site includes a comments system and an upvoting system similar to Hacker News or Reddit.   
We already had our product released to the market so we used Product Hunt as a way to attract more users and customers that would be interested in our product. Other start-ups may use Product Hunt as an initial product launch strategy.   
To put it simply, launching on Product Hunt is an awesome way to build awareness and gain traction by putting your product in front of a highly relevant audience of tech enthusiasts and influencers who can help you share your product, improve your offering and grow your user base.   
Our launch response was average, I would say: 30th place with 133 upvotes. These results were not the best but the thing is that we have learned a lot. And in this article, we are going to share what we learned from our PH launch experience.  
1. Prepare in advance   
It is very important to prepare for the launch in advance. Prepare a checklist of what needs to be done, which includes making short and long descriptions, a tagline, select photos you want to use. It is also recommended to add a video to your product listing. Also, if you are launching a new product to the market (it's your first launch), use Product Hunt Ship. It allows you to create a landing page and gather emails before you launch, and when you launch the product, inform the subscribers about it by sending an email.
Be active in the Product Hunt community. Networking is the key to a successful launch on Product Hunt. Treat this platform as any other online community and start building a strong network. For starters, check out the products daily and upvote the ones you like. Ask questions on the forum, build real relationships, ask for feedback, make friends in comments and just be an active member on the platform.   
2. Day and time is important   
There are some considerations regarding posting time to keep in mind. The homepage is based on a 24-hour cycle, new products hit the homepage at 12:01 am PST and are added throughout the day. Product Hunt does not adjust for time zones so be sure to double-check you are launching at the time you'd like to in PST. There is no "magic" time to post, but it's best practice to do it before 9 am PST so there's enough time in the day for people to discover and discuss your latest creation.
Also, pay some attention to the day you are posting. Although we posted on Tuesday, Sunday is considered as the best day, with relatively higher chances to place higher in Product Hunt's listings, as well as more upvotes. It depends on how many products are launched during a particular day, so just check the concurrency and see how many upvotes others have. If the numbers are not high, it might be a perfect time to launch your product.   
3. Don't include a direct link when you are sharing on social media   
Product Hunt does state that linking to your page and asking for upvotes is a "big no-no" and also may indicate that you are trying to "game the system". We made a mistake and added a direct link to our product, perhaps that could be a reason why we were in 30th place with the relatively high result (133 votes) between start-ups that had fewer votes.   
4. Get upvotes as soon as you posted   
Get as many comments and upvotes as early as you can because that'll boost the ranking of your product. We assume that the "super-secret algorithm" of Product Hunt gives extra points for those early upvotes. Ask your friends to upvote in advance or gather a pre-launch audience so they'll upvote as soon as you launch. If you have a proper start-up product, we highly recommend you to do a pre-launch/early access campaign/email list/beta testers outreach — before you launch on Product Hunt.   
5. Get upvotes only from high-quality accounts   
Product hunt is very strict on this. On Product Hunt, the quality of upvotes is more important than the number of upvotes. Quality upvotes come from active PH-ers. These users have been on the platform for months and engage regularly. Product Hunt's algorithm appears to favor products whose posts receive engagement from established Product Hunt Members. So upvotes from users with new accounts is a big "no-no". Also, it is better not to buy votes because Product Hunt detects when you're trying to "game the system".   
6. Post on social media and on Facebook PH groups to get wider exposure   
When you've submitted your post, be sure to share it out on social media or with your newsletter subscribers. Be sure to let others know that you're launching today and that you'd appreciate their feedback. It's also a good idea to include an image or GIF of your product when sharing. It is better not to ask for upvotes, but instead ask for others to simply take a look and leave some comments. Plus, it is important that they would find you not from the direct link but by going through the Product Hunt page. We posted on our social media channels like Facebook, Twitter, LinkedIn and also made a post to Product Hunt Facebook groups. Many product hunters are in these groups, so it is a great way to get some extra exposure.
These are the tips that we recommend implementing to your strategy if you are thinking about launching on PH. Product Hunt is an amazing place to check out the latest products and share your product. It's incredible that it's free to submit on PH. So, don't overthink it, use the tips and just launch!