Share:
What is Jira?
Jira Software works as a project management and issue-tracking tool. It was developed by the company Atlassian and has become the most popular in agile development teams' work to track tasks, bugs, and stories. The Jira platform offers services for different teams. Non-technical teams use Jira Core which is a project management tool. Marketing, finance, or marketing departments use this tool for basic task management, workflow approvals, and change requests. Jira software is used by software development teams. It offers Core's features with the addition of agile functionality. Such teams use it for managing software development tasks and project management. IT teams such as support professionals and helpdesk agents use the add-on called Jira Service Desk. It has features such as change management or issue ticketing. 
How Can You Easily Transfer Tasks To Jira?
isLucid is an automated transcription software that improves the efficiency of online meetings. It transcribes your meetings and allows you to manage all information from creating tasks and bookmarks to editing the generated meeting minutes file. isLucid also integrates with different CRM and project management tools such as MS Planner, Azure DevOps, and Atlassian Jira.  Whenever you create a task, you can immediately transfer it to your choice of business app. isLucid integrates with Jira and makes task management between this software efficient.
When you are having a meeting, simply start isLucid real-time transcription by pressing on the three dots in the top right.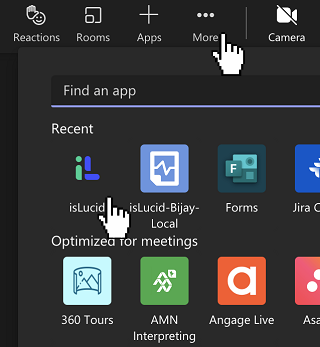 2. To create a task, mark part of the text or a sentence where it was mentioned. Press on the three dots on the right and select to which project management tool you want to add it. To transfer to Jira, just press Jira.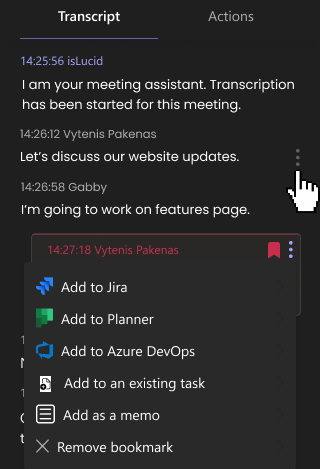 3. You can create a new task or update an existing one. Just fill in the fields for the new task such as task description and title. Choose the project and to whom it will be assigned. Click sent and now your task will be saved in the Jira project management software.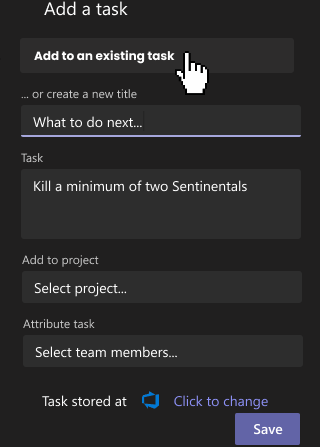 4. In the end, this is how you will see that you created a task.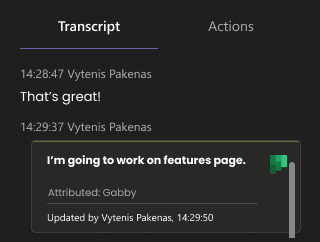 Benefits of isLucid During Meetings
By using isLucid in online meetings, you save 25% of your time. Automated transcription means that you do not have to take manual notes anymore. Task creation and management make it possible to increase software collaboration and stop task delegation. 
You can use ML Recommendations to highlight details that sound like a task or plan. This way you will not miss any critical information and will be able to follow up on tasks.
isLucid real-time transcription allows you to capture more information worth paying attention to. The generated meeting minutes file, or final transcript, with all tasks and bookmarks in front of your eyes, means business decisions are made faster. You do not forget any tasks and projects can move faster.
You can share store, edit and share all meeting information. This increases accountability and makes teams more aligned. Everyone remains on the same page and knows what tasks have to be done or what information has to be remembered.
Choose isLucid
isLucid is a meeting information management software that saves your company time and money. It's a platform to manage all meeting information in a single place. Accurately transcribe your meetings and follow the agenda. Create tasks, use voice commands for bookmarks and generate meeting minutes. Access and manage meeting information to keep your team aligned. 
If you are interested in trying meeting information management software, get isLucid for MS Teams and try it for free: isLucid Download Page
You can also book a demo and get a walkthrough: Book a Demo