Share:
It takes exceptional expertise to capture spoken words on paper precisely and in real-time. Every transcribing work is a new challenge, even for the most seasoned transcribers. As a result, any assistance is much appreciated.  
Fortunately, language app developers understood the necessity for high-quality transcription early on, so there are now dozens of excellent transcribing tools accessible. 
This article will look into AI-powered language transcription tools and analyze their benefits.  
Automated Transcription Software. What is it? 
Transcription software is a computer-assisted method that converts live audio into text in minutes. It analyzes and transcribes the speech using powerful AI and Natural Language Processing. When compared to typing, automatic transcribing is exceptionally rapid. Manually translating voice to text frequently necessitates splitting the original recording into many files, then distributing to multiple persons who are paid an hourly or per-page charge to type them.  
In contrast, automated transcription performed all of this with a single audio or video clip, in less time, for less money, and far more securely. 
Different Types of Automated Transcription 
When choosing transcription software, it is essential to distinguish the differences between different types of automated transcription. Knowing the key distinctions might further describe your needs. 
Automated real-time transcription software offers a live transcribing of your meeting. This means that after each said phrase or sentence, AI will recognize your speech and turn it into text in a matter of seconds. The meeting participants can access and see the whole transcript throughout and after the session. 
In addition, some software offer unique functionality to manage your transcription in the process. These include such features as highlighting essential information, converting phrases into tasks, and much more.  
However, there are other types of transcription software. These offer to record the audio of the meeting and convert it into text afterward.  
Choosing the correct type of language transcription software 
It all comes to one's needs when choosing between the variety of transcription services.  
Real-time transcription is for you if you are looking for a tool to avoid misunderstandings in your meetings. It is said that seeing the transcript generated live saves up to 25% of the time spent within each online meeting. Users of such services avoid constant re-asking, do not have to worry about not hearing something right, and enjoy communication clearance.  
However, some users prefer having their transcript prepared after their meeting is over. Recorded transcription could be a solution for one wanting to have all meeting transcripts accessible with the audio file attached. 
Note that both types of transcription software offer functionalities to access the transcript at any point after the meeting.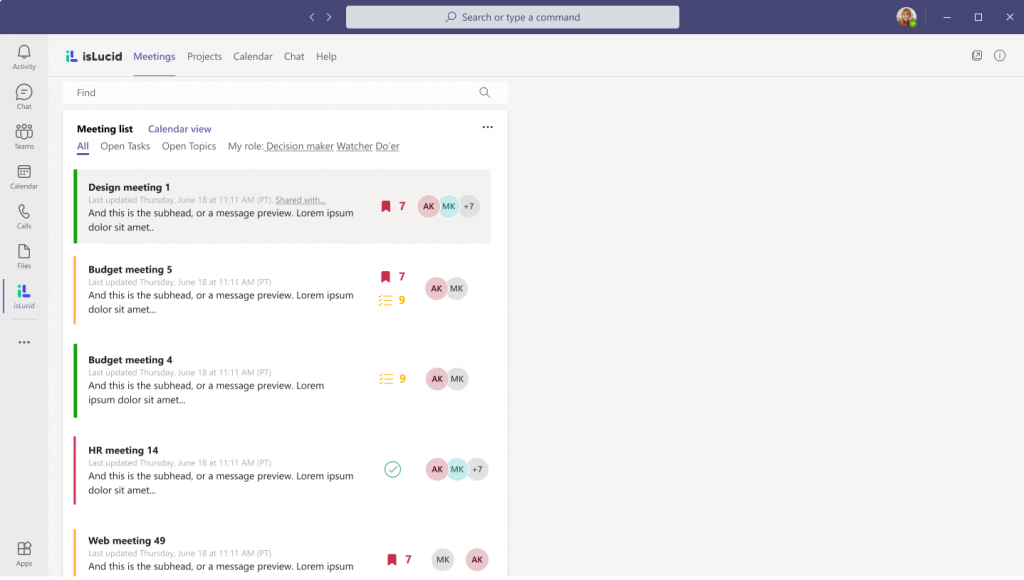 AI meeting management software isLucid  
isLucid is an AI online meeting assistant available on Microsoft Teams.  
isLucid not only documents and transcribes all meetings but also lets participants generate actionable items such as bookmarks or tasks during or after the meeting. Furthermore, isLucid provides a remarkable opportunity to connect all the information with other apps utilized in a business. Each participant, for example, can add developed actionable items to their plans or integrate with other systems.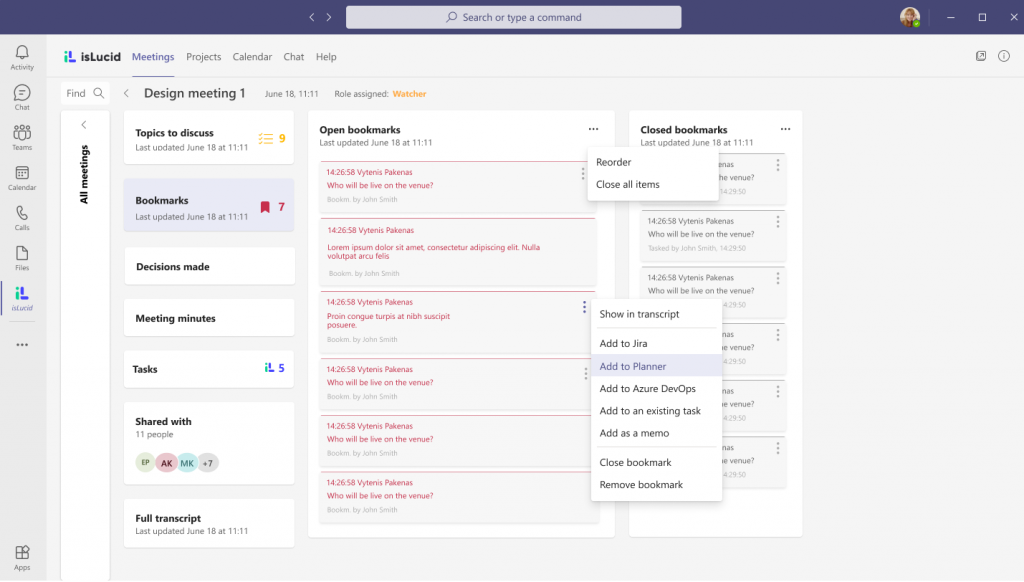 An advantage of this software is that it supports many languages and dialects. IsLucid users can choose from various languages, including those spoken widely across the globe (English, Chinese, Hindi, French, German, Spanish and many more). In addition, each participant can choose their dialect to ensure better transcription quality. IsLucid allows to have different dialects selected for each participant in the same meeting. As now a lot of companies are having international teams, this is an essential feature to have. If somebody is having a thick accent, a person just needs to select preferred dialect and transcription will adapt accordingly. Better results will be seen immediately, thus it helps to understand each other better just by reading the transcription that appears in seconds.  
International words or slang are also included in the software to encourage the users to speak casually without worrying about potential mistakes made by the AI. The language used in a meeting can be changed at any point of the meeting, without transcript delays. Artificial intelligence ensures the best possible transcription and identifies essential, actionable items in real-time to simplify and streamline task management.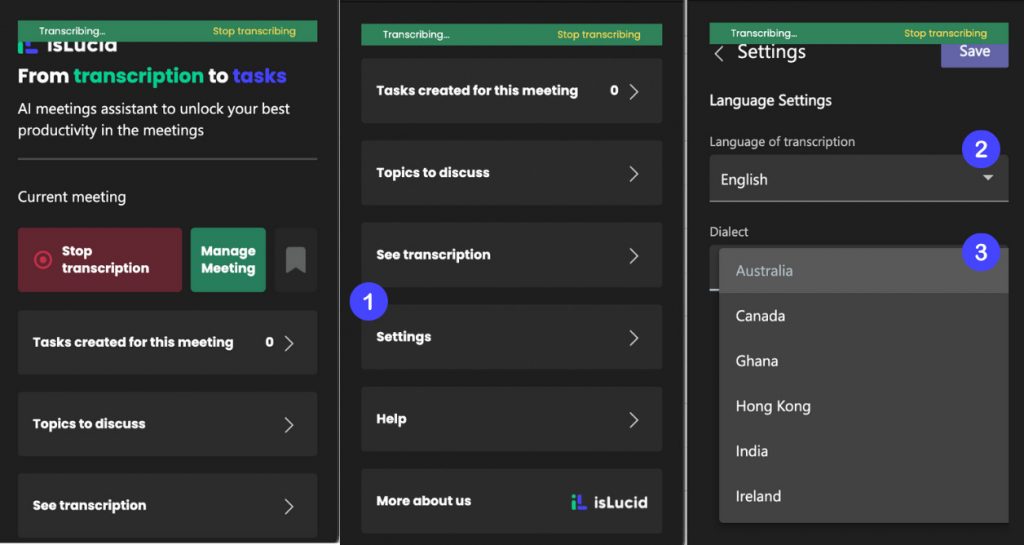 If you are curious to try the benefits of AI meeting assistants, 
Get isLucid for MS Teams and try it out for free: isLucid Download Page 
Or book a demo to get a walkthrough: Book a demo