Share:
How often have you sat through a meeting where you knew there would be no outcome? 
Everyone has attended meetings that were a complete waste of time. Participants would arrive unprepared, the discussion would veer off-topic, and hours would pass without any decisions being made. 
A meeting without an agenda can quickly become chaotic, and important business may not be completed. 
The agenda ensures that a meeting stays on track and that everyone is aware of what is going on and what will happen next. Because a meeting's form and structure will be determined by its agenda. Once you have determined this, you can decide how long the meeting should last and which team members you should invite to help you achieve your business objectives. Also, people do not forget to discuss key points and ask pertinent questions, for instance in an online interview. 
Agendas are a fantastic way to contribute to productive meetings and produce efficient and effective outcomes for teams and individuals. 
Types of meeting 
Identifying the type of meeting is also an important step in meeting planning. While every meeting is unique, familiarity with the six most common types of meetings will help you determine the most appropriate objectives, structure, and activities for your gatherings. 
Project Kick-off meetings: designed to outline the project's purpose and shared objectives.
Ad Hoc Meetings: included a plan with several issues that need addressing and resolving, the emphasis of ad hoc meetings is frequently much more focused.
Regular team meetings: helps teams agree on the discussion themes, express any issues or roadblocks, and establish clear next steps.
Client Meetings: gives an essential chance to establish long-term relationships, gain a thorough grasp of how each side functions, and identify the best method to collaborate in the future.
This signifies that each of those meetings has a distinct purpose and must address distinct topics. Therefore, this is a convenient way to always have an agenda for your meeting, and you will no longer need to worry about preparing it. Additionally, you can edit these agendas or create a new one and save it. 
The following step in the meeting is to determine if a quorum is present (the number of members required to be present to conduct the meeting). The chair determines whether a quorum exists by having members sign in or by requesting the secretary to call the roll. The sign-in and roll call also allows the secretary to record the names of meeting attendees for the meeting minutes. 
Ai meetings assistants such as isLucid provide pre-built agenda templates that can be incorporated into meetings, which can help you stay on track and automate a transcript of each meeting. 
The important things on the agenda 
An agenda for a meeting is a list of the activities that participants hope to complete during the meeting. It serves multiple functions: 
It provides attendees with advance notice of what will be discussed.
It specifies precisely what must occur prior to and during a meeting.
It maintains the participants' focus on the current topic.
It determines the tempo of the meeting.
It serves as a time management instrument.
A well-designed agenda can prevent unproductive meetings, thereby saving your entire team a great deal of time. 
You can also use isLucid to download meeting summaries and provide those who missed the meeting with access. Be in total agreement with your team regarding meeting outcomes.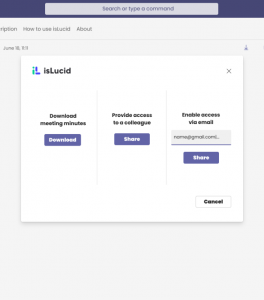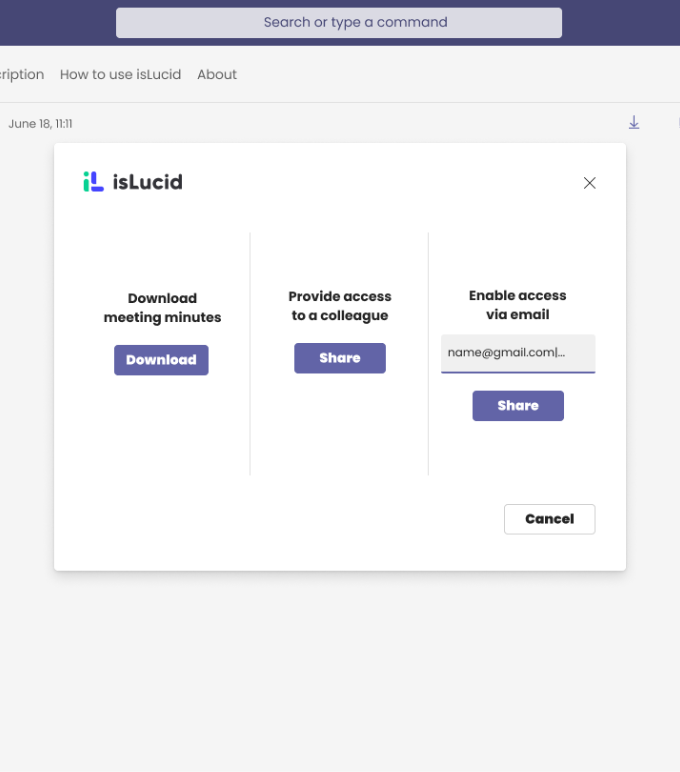 Tips to the meeting agenda 
Writing a meeting agenda may appear to be a simple task, but this is not always the case. If the agenda for a meeting is created in a rush and is too vague or unstructured, it will be of little use. 
Here are some guidelines for creating an effective agenda for your next team meeting.
The meeting goals:
Your meeting agenda should inform all attendees of the meeting's objectives, the topics that will be discussed, and the types of decisions that must be made. Your agenda should include just enough background information for your team to become familiar with the topic before the meeting begins. 
The meeting attendees:  
In addition to listing the attendees of the meeting, the agenda should also indicate which agenda items each team member is responsible for. 
The duration and allotted time for each item on the agenda:  
When beginning to write agendas, it can be challenging to determine how much time will be allocated to each agenda item. However, once you master it, you will realise how rewarding it is. Always allow a few extra minutes than you believe you'll need, in case a question or discussion point arises that must be addressed during your meeting. 
A summary of the topics to be discussed during the meeting:  
To ensure that everyone is on the same page, your meeting agenda should contain a comprehensive list of all topics that will be discussed. These can be brainstorming topics, items for decision-making, or open-ended questions. Establishing boundaries and allowing your team to prepare for each agenda item by enumerating all of the meeting's topics is achieved by providing an exhaustive agenda. 
End each meeting with a review:  
Leaving time at the end of each meeting for a review can help participants better comprehend the decisions they made and the information they discussed, allowing them to take the appropriate actions after the meeting. During this evaluation, you and your meeting attendees should also consider what went well and what could be improved. By taking a few moments to consider the following questions, you can ensure that your next meeting is more productive. 
Here's an outline that you can tailor to nearly any type of meeting: 
MEETING AGENDA 
Date: 
Time: 
Location: 
AGENDA DETAILS 
Goals: 
Topic to discuss

Topic to discuss
Topic to discuss
Topic to discuss
Purpose: 
Leader: 
Remarks

Remarks

Remarks
Maximizing the value of every meeting 
Using isLucid, you can centralise your meeting agenda, meeting minutes, and meeting action items. Share the agenda with your team without difficulty and assign agenda items in real time to ensure that nothing falls through the cracks. 
isLucid Summary 
isLucid, an AI-based digital meeting assistant, manages every part of your online meeting. It transcribes your meetings in real time with multilanguage support. You can create tasks or highlight important details through voice commands. Every task integrates with multiple project management and CRM software. isLucid allows you to create meeting minutes and have a generate meeting minute file after the meeting. You can edit it, add tasks and share it with other employees. 
If you are interested in isLucid digital meeting assistant, get it for MS Teams and try for free: isLucid Download Page 
You can also book a demo and get a walkthrough: Book a Demo